Data Contracts - the book. Out now!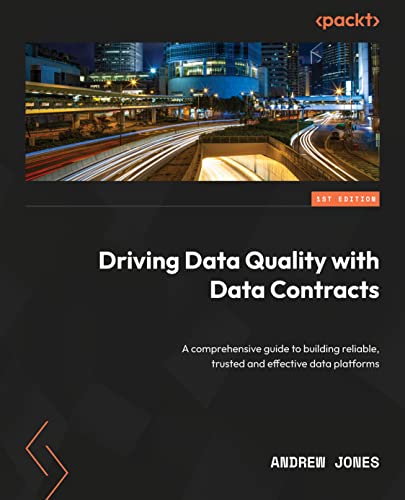 I'm so proud to announce that my book on data contracts is out now! Available wherever you buy your books, including Amazon, Packt, ebooks.com, Kobo and through the O'Reilly learning platform.
I'm excited to share with you everything I've learned about how data contracts solve some of the age-old problems we have in our data architectures, where despite huge investment we rarely have easy access to good quality data that can be used to drive real business value. 
This book and the ideas behind it have been three years in the making. I came up with data contracts and started talking about it internally at GoCardless in August 2020, before writing about it publicly for the first time in April 2021, and describing our implementation in December 2021. Since then, it's really taken off, with countless articles, presentations, and podcasts around the subject.
Over that time, I've been lucky enough to have the opportunity to speak to many people in the data community, at organizations large and small, and through those discussions have found that while for each of us our data is unique, our problems are not! In fact, they're universal. 
Data contracts solves these problems in two ways. The first is the implementation of a contracts-backed architecture, which empowers the creation, management, and use of quality data through self-served, autonomous tooling. 
The second is by changing our data culture to one where data is generated explicitly to meet use cases, where data generators and data consumers work closely together as partners, and where we focus on quality of our data, not the quantity. 
These go together, and both are required if we're going to achieve our goal of driving a true data-driven organization that creates real business value through the effective use of quality data.
If you're an experienced data engineer, data leader, architect, or practitioner thinking about your data architecture and how to design one that enables your organization to get the most value from your data, then this book is for you!
This really is the definitive guide to data contracts.
There's more information on the book on this dedicated website. If you do get it, I'd love to hear what you think! Do also leave a review on Amazon or wherever you got your copy from 🙂.
I'd like to say a big thank you to my reviewers, John Thomas and Animesh Kumar, and to Kevin Hu for writing such a generous foreword ♥️.
Thanks also to everyone at GoCardless who supported me on taking data contracts from a one pager; to a successful implementation; to an industry topic worthy of an entire book! 🚀
And finally, a big thank you to everyone in the data community who have been so generous with their time and helped develop the ideas that became data contracts 🙌.
I've also written a more personal reflection on why I wrote a book on data contracts, for those who are interested.